Introducing Northwest Alder Leaf Reserve Series Herbal Infusion
A Domestic Tea Rooted in Passion and Creativity
We created our Reserve Series to highlight the sensational rare trees that our Head Teamaker, Ravi Kroesen, discovers during his visits with master tea-growers around the world. With international travel on pause, Ravi has turned to our own "backyard" in the Pacific Northwest to continue his hunt for the extraordinary. For our next Reserve Series teas, we are proud to showcase two domestic teas grown right here in Northwest that have never been available to the public until this moment. Our tea department even had the opportunity to hand harvest the leaves alongside two incredible teamakers, making these an especially meaningful release. It will come as no surprise that North American teamakers are pushing the envelope on traditional tea cultivation techniques and we cannot wait to share this with you all.
The World Premiere of a Remarkable Domestic Tea
Handcrafted by Teamaker Balazs Henger, this is a truly unique domestic tea, unlike anything else in the world. Buds and young leaves were harvested from wild Pacific Northwest Alder trees and processed using time-honored black, oolong and yellow tea production techniques. In this micro-batch offering, ancient knowledge meets cutting-edge innovation, delivering exquisite notes of rose petal, fresh pine and sun dried tomato. This is North American tea making at its finest.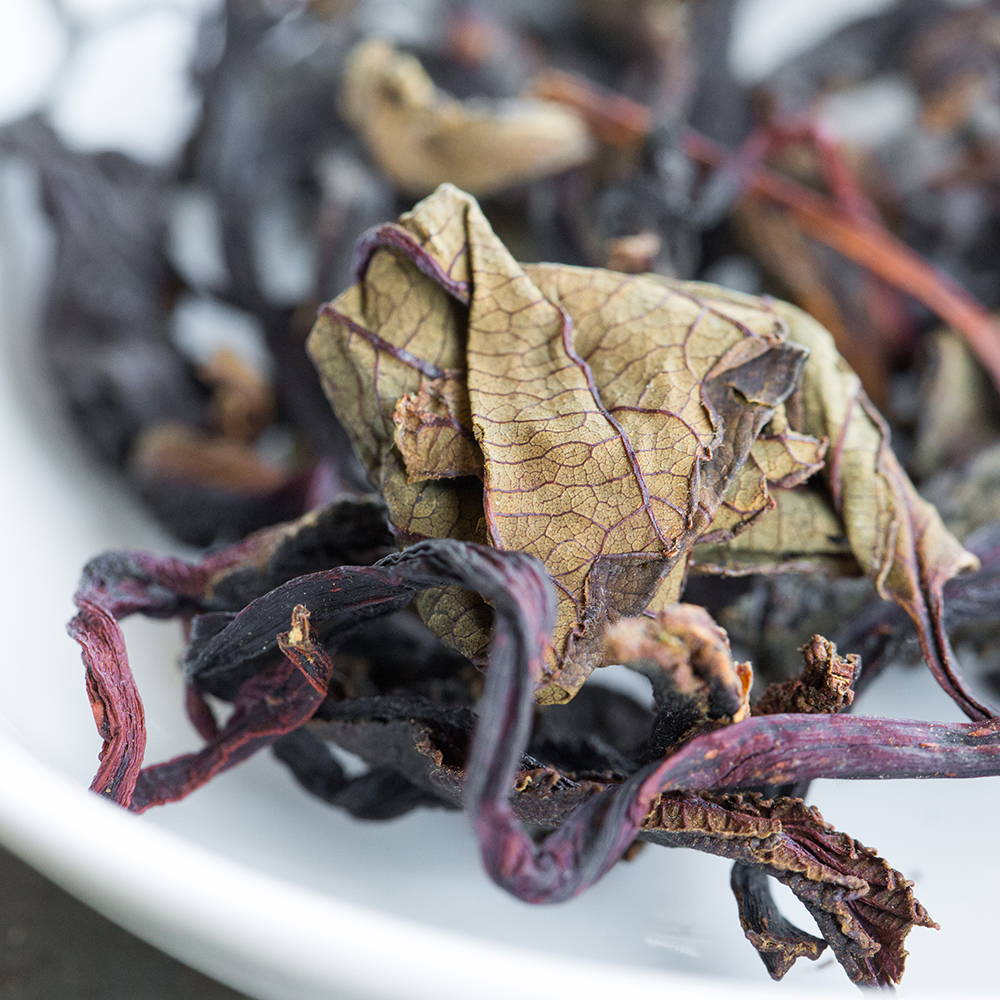 The Story Behind the Cup
This one-of-a-kind offering is in fact, no tea at all. As its name implies, it was created using leaves harvested from Alder trees growing wild in the temperate rainforests of the Pacific Northwest. The tea leaf (camelia sinensis) and the Alder leaf are fairly similar morphologically. Both are small, ovoid and fibrous, rimmed by slightly serrated edges. Alder leaves thrive in moist, fertile soil, of which there is plenty in the Pacific Northwest.
Our Northwest Alder Leaf Reserve Series tea was dreamt up by Balazs Henger, a true craftsman and a teamaking savant if ever there was one. Balazs is a former chef, a skilled fermentation specialist, and a zealously passionate teamaker. A few years ago, he heard rumors about a small tea growing operation called Minto Island Farms, nestled in the center of the Willamette Valley. Balazs was so excited by the prospect of tasting his first Oregon grown tea, that he drove down to Salem, Oregon from Chehalis, Washington to visit the farm and talk tea. Balazs quickly started working with Minto's small team of tea farmers, and eventually taught Kacie Merkel, who is now Minto's head teamaker, everything he could about tea cultivation.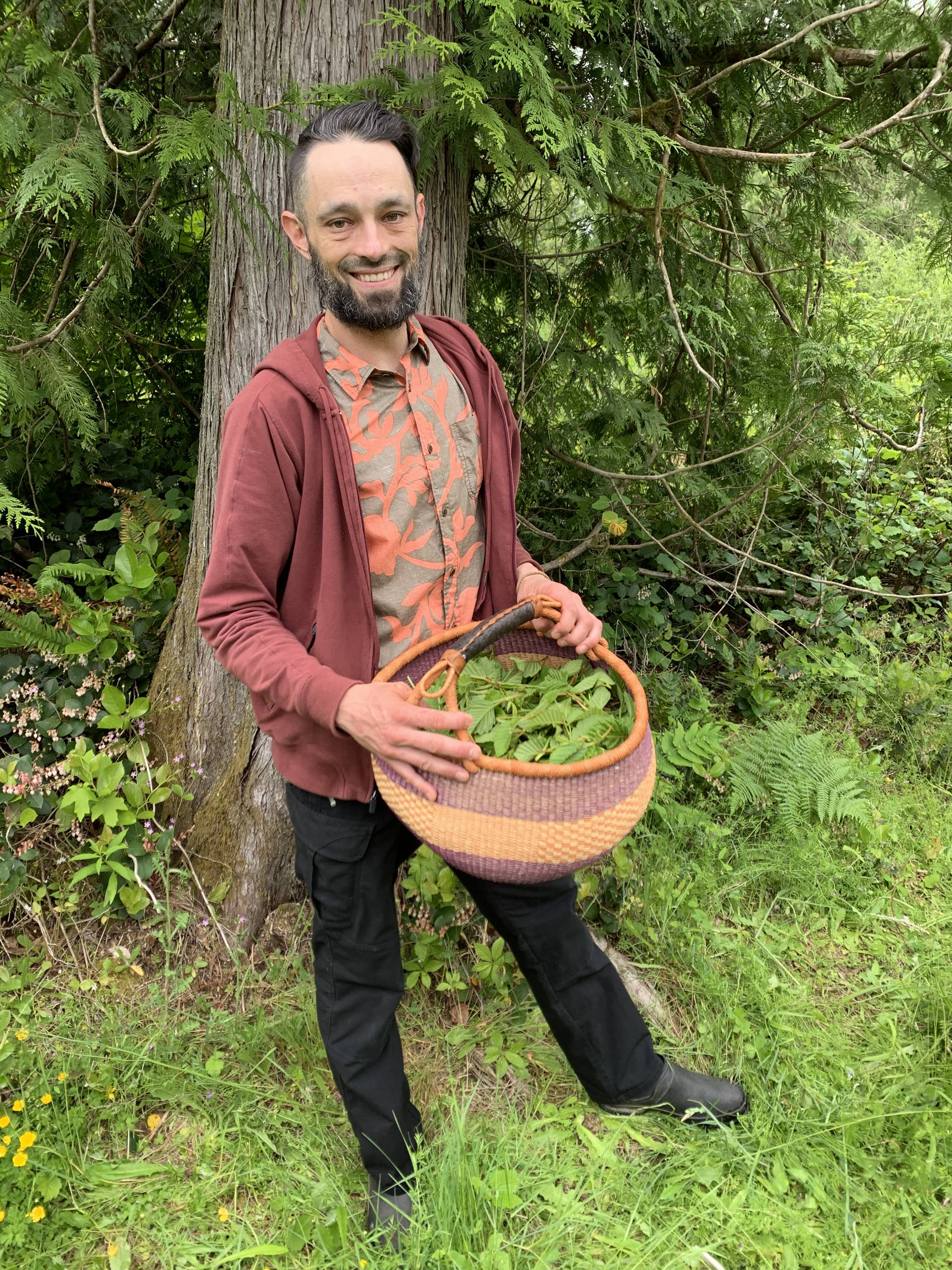 While tending the half-acre of tea shrubs at Minto Island on a hazy fall morning, Balazs noticed that a sleepy herd of local deer were breakfasting on the wild Alder leaves in the surrounding brush. "I wonder if they're on to something," he thought to himself. He harvested the Alder leaves just like tea leaves, plucking the top two leaves and bud, and processed them as if they were green tea leaves. This first batch had an interesting flavor, with hints of green apple and pear. He then started applying different black, oolong and yellow tea processing techniques to the Alder leaves in an effort to refine their flavor profile. Balazs plucked, withered (to remove moisture and make the leaf more malleable), and finally rolled the leaves at a controlled temperature (a fermentation and oxidation process often used by teamakers to produce black and oolong teas). The results were increasingly gratifying, ultimately creating a herbaceous and heady brew which delivers pleasing notes of rose petal, fresh pine and sun dried tomato. Our Head Teamaker, Ravi Kroesen, views Balazs's experiment as a particularly groundbreaking success.
"You could serve this to someone and they would have no idea it wasn't a floral black tea or a lightly oxidized oolong," observes Kroesen. "Balazs has basically combed through traditional and modern Chinese tea processing techniques, and applied them to Alder leaves. This is the first time an offering like this is available anywhere in the world, and I'm very excited to see what Balazs dreams up next."
What is the nutritional value of Alder leaf tea?
The chemical characteristics of the Alder leaf are not as well documented as those of the tea leaf. For one thing, though, unlike the tea leaf, the Alder leaf doesn't contain caffeine. So this brew makes a great herbal substitute for tea in the evening, or for those who don't drink caffeine.
Native Americans used to scrape the inner bark of Alder trees to make a flour substitute that was used as an ingredient in cakes and salads. And to this day, Red Alders are cut and boiled to make clothing dye. What's more, Alders add nitrogen to the soil, and tea plants thrive in nitrogen rich soil, making the two excellent companion plants.
Recent scientific studies indicate that Alder trees are a valuable source of compounds with radical scavenging properties. Radical scavengers are known to help the body eliminate free radicals and fight diseases. The same studies found that Alder trees are rich in polyphenols (micronutrients packed with antioxidants), including flavonoids, tannins, and proanthocyanidins, all of which are recognized for their anticarcinogenic and cardioprotective qualities.
---