Introducing the Wellness Collection
We have spent many ruminative hours in our Tea Lab this year musing over how we can employ our craft to bolster the wellbeing of our family, friends, and patrons. Now more than ever before, this endeavor strikes us as being especially vital. After months of planning and preparation, we are proud to introduce our new Wellness Collection: an enchanting trinity of certified organic herbal infusions, attentively formulated with your well-being – and exceptional flavor – in mind.
As the name implies, the teas in our Wellness Collection are packed with immunity boosting ingredients, all blended to perfection. When our founders Steve Smith and Kim DeMent first created the brand, they intended to create a selection of health-focused teas, and we are humbled and excited to bring that dream to fruition with our new Wellness Collection. To mark the occasion, we sat down with our Head Teamaker, Ravi Kroesen, to discuss the inspiration, vision, and craftsmanship behind these salubrious additions to our atelier.
Why was crafting these blends important to you? How does the Wellness Collection complement the Herbal Infusions already in our Signature Collection?

Ravi Kroesen: When we launched Golden Light – our rich and invigorating turmeric tea – in January, we learned that our patrons would enjoy more offerings of this kind. Devising these blends was particularly meaningful for me because I believe that as individuals, our own health is one of the few things in this world that we have some amount of control over. I knew I wanted to design three specific teas, one for each period of the day: morning, afternoon, and night. Moreover, each blend was formulated to support three discrete rituals that I incorporate into my daily routine to fortify my physical and emotional health: exercise, nutrition, and rest. We designed Soothe Sayer as a healthful yet soothing stress-relief tea; Golden Light as a decadent immunity booster that can be enjoyed any time of day; and Lullaby to aid restless sleepers. Creating these three offerings to help our patrons establish daily routines which can fortify their health was particularly important to me.
How can these infusions contribute to a Wellness routine?
Ravi Kroesen: Our Golden Light turmeric blend is an excellent accompaniment to daily exercise. Whether you prefer yoga, a brisk walk, or lifting weights, the organic turmeric in this blend, which is an effective anti-inflammatory agent, can help significantly with the body's natural recovery process. I'd recommend brewing up a cuppa after any sort of workout.
Soothe Sayer is a soothing caffeine-free infusion that can be enjoyed at any hour of the day. Many of the ingredients in this blend are said to provide relief from cold and flu symptoms, such as sore throat, cough, and congestion. Some of the ingredients serve more functional purposes: elderberry, echinacea, and wild cherry bark (which is often found in cough syrups) are all natural expectorants and may help reduce congestion. Others, like Northwest peppermint, ginger and nutmeg, contribute to the aroma and flavor of the tea. Drinking a tea that tastes good and makes you feel better elicits both satisfaction and well-being, and that was our goal with this collection.
Lullaby was inspired by a desire to create a nighttime tea that was both effective and delicious. Ashwagandha is one of the main ingredients in Lullaby. Traditional Indian medicine posits that this 'adaptogen' can promote healthier sleeping habits when consumed regularly before bed (For those who might not know, adaptogens are botanical ingredients that ostensibly help the body reach homeostasis by regulating stress hormones.) In addition to the Ashwagandha, this blend contains several other natural sleep aids with aromatherapeutic properties, such as chamomile and lavender, both of which are age-old remedies for insomnia.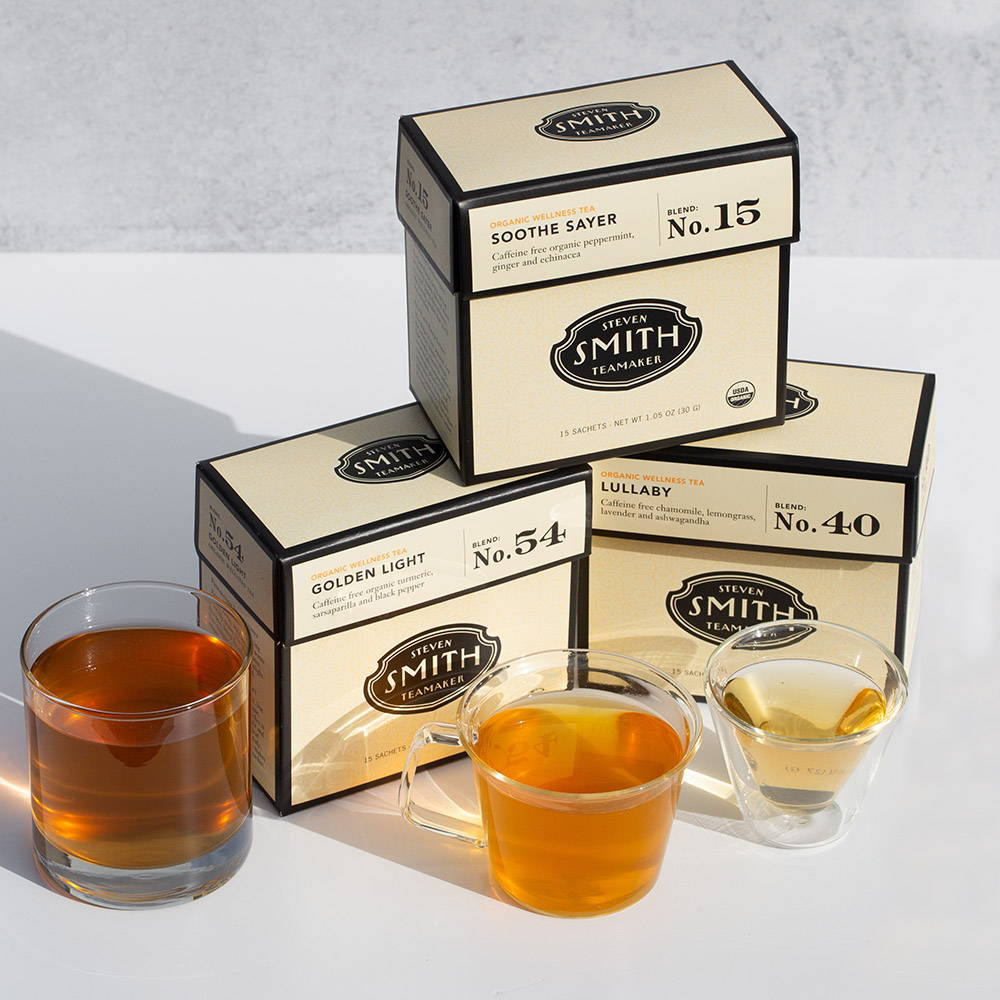 How do these teas provide nourishment, without compromising flavor?
Ravi Kroesen: Since our humble beginnings, serving tea blends which are not only flavorful, but also healthful, has been of paramount importance here at Steven Smith Teamaker. That's part of our brand promise: origin, craft, and creativity. We wanted to ensure that the ingredients in our Wellness Collection had healthful origins, and we used our blending expertise to guarantee that each infusion met our high standards for flavor as well. Most 'functional teas' on the marketplace claim that they will help us in 'X,' 'Y,' or 'Z' terms, but taste might be overlooked and drinking them can often feel like you're taking your medicine. I can guarantee that our patrons will enjoy drinking all of the teas in our Wellness Collection, regardless of whether they're feeling under the weather or trying to get a good night's sleep.
You're an expert with over two decades of experience studying the tea plant (Camellia Sinensis), but none of these blends include any tea leaves. How have you expanded your knowledge of herbal ingredients and botanicals during your time at Smith?
Ravi Kroesen: While we were meticulously formulating this trio of organic, caffeine-free herbal infusions, we learned a good deal about the flavors, aromas, and restorative qualities of the botanical ingredients available to us as Teamakers. At the start, I was looking at botanicals and spices for their purported medicinal benefits. But in doing so, I learned a lot more about how to use them to improve or modify the flavor profile of different blends. Nutmeg, an ingredient in Soothe Sayer, for example, is obviously very familiar. But there are other ingredients in that blend that I wasn't accustomed to. I discovered that Elderberry has a wonderful dried fruit flavor profile to it––and I definitely intend to incorporate that in some of our blends in the future. We also imported small-batch Lemon Balm from a micro-farm on the East Coast for the first time to create Lullaby. Lemon Balm has an herbaceous, lemon-lime flavor profile, but the difference in quality between our new Lemon Balm and the store-bought product I've sampled in the past is just night and day. I'm excited to continue exploring domestic and international origin sources for botanicals.
How have you, and others at Smith Headquarters, been incorporating these beverages into your daily routine?
Ravi Kroesen: When we first introduced Golden Light as a Limited Release tea in January, it was a smash hit with both our patrons and our Teamakers here at Smith. It has since become a daily go-to for many of us. Our Teamakers with children at home are particularly excited about Lullaby, and are already incorporating it into their bedtime routines. As cold and flu season ramps up, I expect that Soothe Sayer will also take off in popularity. I think the greatest advantage of our Wellness Collection, however, is that with the broad spectrum of flavor profiles these infusions have to offer, there's something here that everyone can enjoy.
Click here to shop the new organic Wellness Collection.
---