Moments of Calm with Smith's Teamakers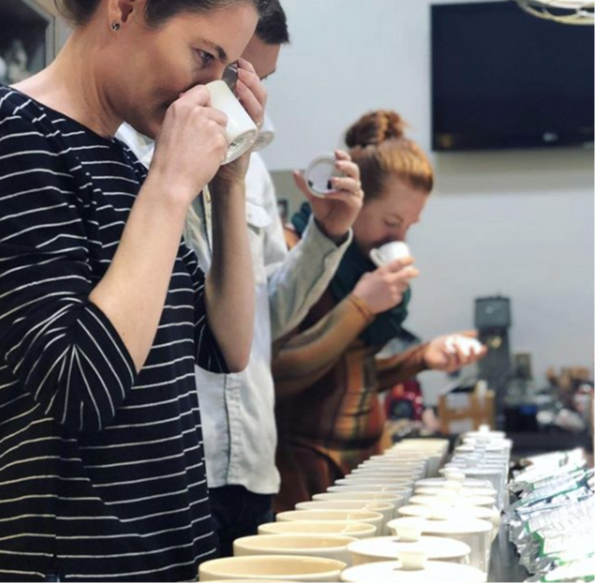 The ability to practice mindfulness during uncertain times is a skill which requires intentionality and repetition. Healthy habits like deep-breathing, yoga and meditation can help us take a step back from our emotions and refocus. Incorporating a tea ceremony into your day can provide another great opportunity to enjoy an uninterrupted moment of tranquility. We asked the experts in our tea lab to reflect on how they are able to include moments of peace and calm in their lives simply by brewing a cup of tea.


Claire Boyer is the Head of Education here at Smith Teamaker, and a veteran member of our Tea Lab. She's been with us for almost a decade, and retained much of her tea-knowledge from Steven Smith himself working in the Tasting Room and Tea Lab at our original location on NW Thurman St.


Claire likes to wake up early with the intention of pairing a good cup of tea with a healthy breakfast. With extra time at home, she prefers using a Gaiwan to savor her morning cup. "A cup of No. 80 Ali Shan paired with a chive and white cheddar scone and scrambled eggs with zucchini and garlic was my favorite breakfast this week," says Claire.

Claire notices that if she consumes too much caffeine while working from home, she can have trouble focusing: "If I drink one steeping of black or green tea with breakfast, and then stick to herbal infusions for the rest of the day, I'm much more productive. No. 54 Golden Light has been my go-to" she adds.

To really refine your palate, Claire recommends using a glass teapot with a brew basket. This set-up works with any loose tea, and allows you to watch the tea leaves unfurl and track the changes in the "cup-color" as the tea reaches its ideal point of extraction.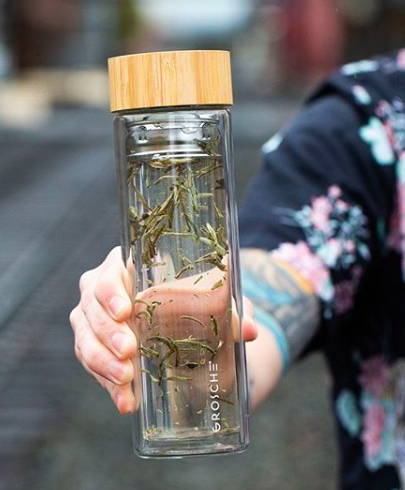 Tea-buyer and lab-mate, Sara Kauffman, likes to incorporate a cup of tea into her daily activities to make them that much more pleasurable. "Getting out of the house and taking my cup of tea for a walk through the forest while talking to friends, family or listening to my favorite podcasts and audiobooks has kept me truly happy while working from home," Sara says. She also tells us that she's eagerly looking forward to the day she can jump back into the lab with her lab-mates at Smith Teamaker Headquarters: "We're going to have a blast making blends as a family again."


For those who prefer brewing their tea with sachets, the folks in the tea lab have hand-picked nine flavors from our tried-and-true-Signature Line Teas to include in our new 30-count assortment boxes. Each assortment box contains 30 individually wrapped plant-based sachets, so you can enjoy 30 moments of serenity, or share them with someone you love. Smith Teamaker's sachets are specially designed to combine the quality of a loose-leaf tea-drinking experience with the convenience of a tea bag. Herbal enthusiasts and decaf drinkers will find satisfaction in our Herbal Assortment; black tea drinkers will enjoy the broad range of flavors in our Black Tea Assortment; and green tea drinkers will delight in the complexity and natural sweetness of our Green Tea Assortment. Plus, there's something for everybody in our Pacific Northwest Assortment, which includes our world-renowned No. 45 Peppermint Leaves herbal infusion, our sought after No. 1851 Portland Breakfast black tea, and our crowd-pleasing green tea, No. 1912 Rose City Genmaicha.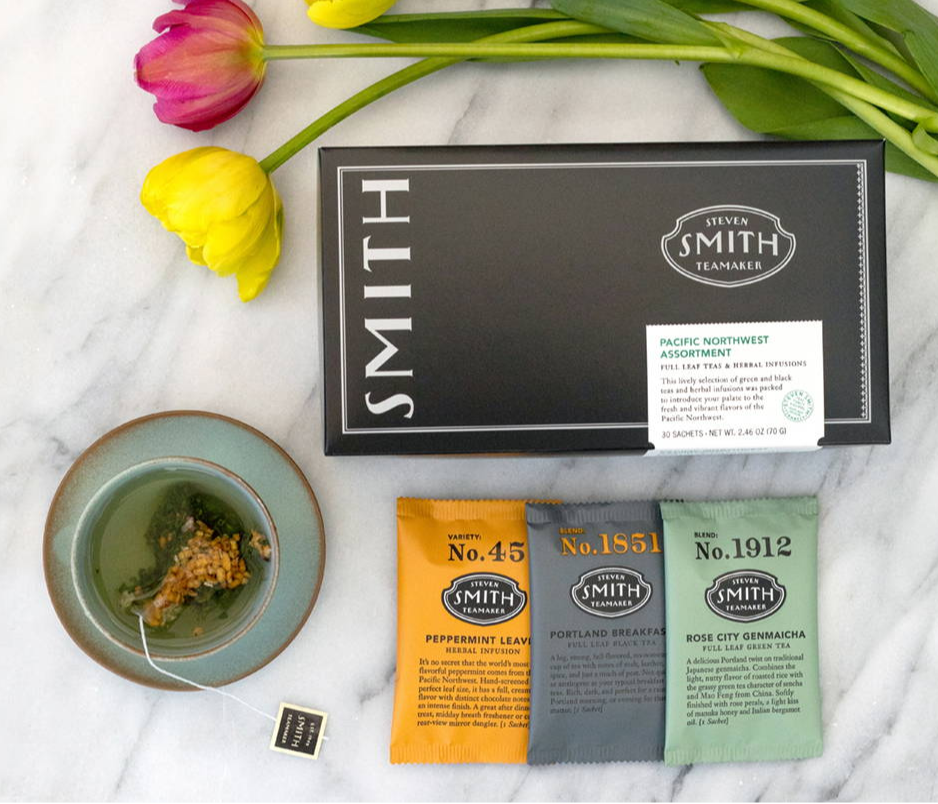 ---