"The Pause," by Smith Teamaker Co-founder, Kim DeMent Smith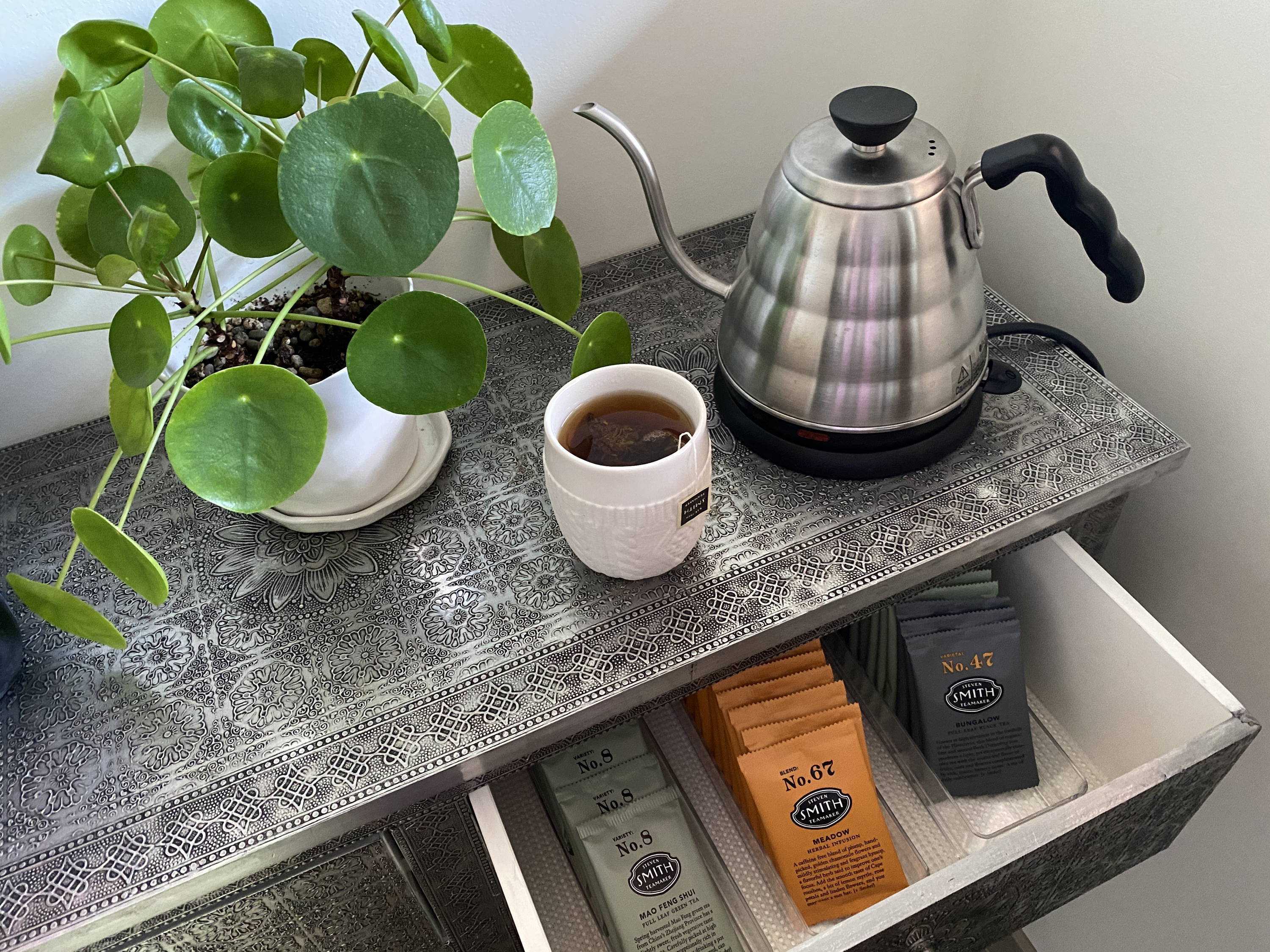 I have created a new ritual for myself to occupy the extra time I've gained in the mornings since "the pause." I set up a tiny tea cart upstairs in my bedroom, complete with an electric kettle, a couple of my favorite Ripple mugs, and a selection of my favorite teas: No. 8 Spring Greens, No. 47 Bungalow, and No. 67 Meadow. In five minutes, I can make a steaming cup of tea to start my day, without even going downstairs. This is a way for me to stay present during those precious early morning hours when the house is still quiet and the morning sky unfolds like a living painting. Holding that warm mug and waiting for the temperature to be just right to sip is a lovely time to reflect on all I have to be grateful for. This ritual is a meditation in itself.

Since I live on a houseboat moorage, my neighbors find little ways to stay connected while practicing safety. Someone will make an extra-large pot of soup, another person will run errands, and someone else will bake pastries. For my part, I make a press pot of tea and leave it at the top of the moorage with individual paper cups, and a message inviting folks to help themselves to a cuppa'. It lets my neighbors know that I am thinking about them and fills my cup too.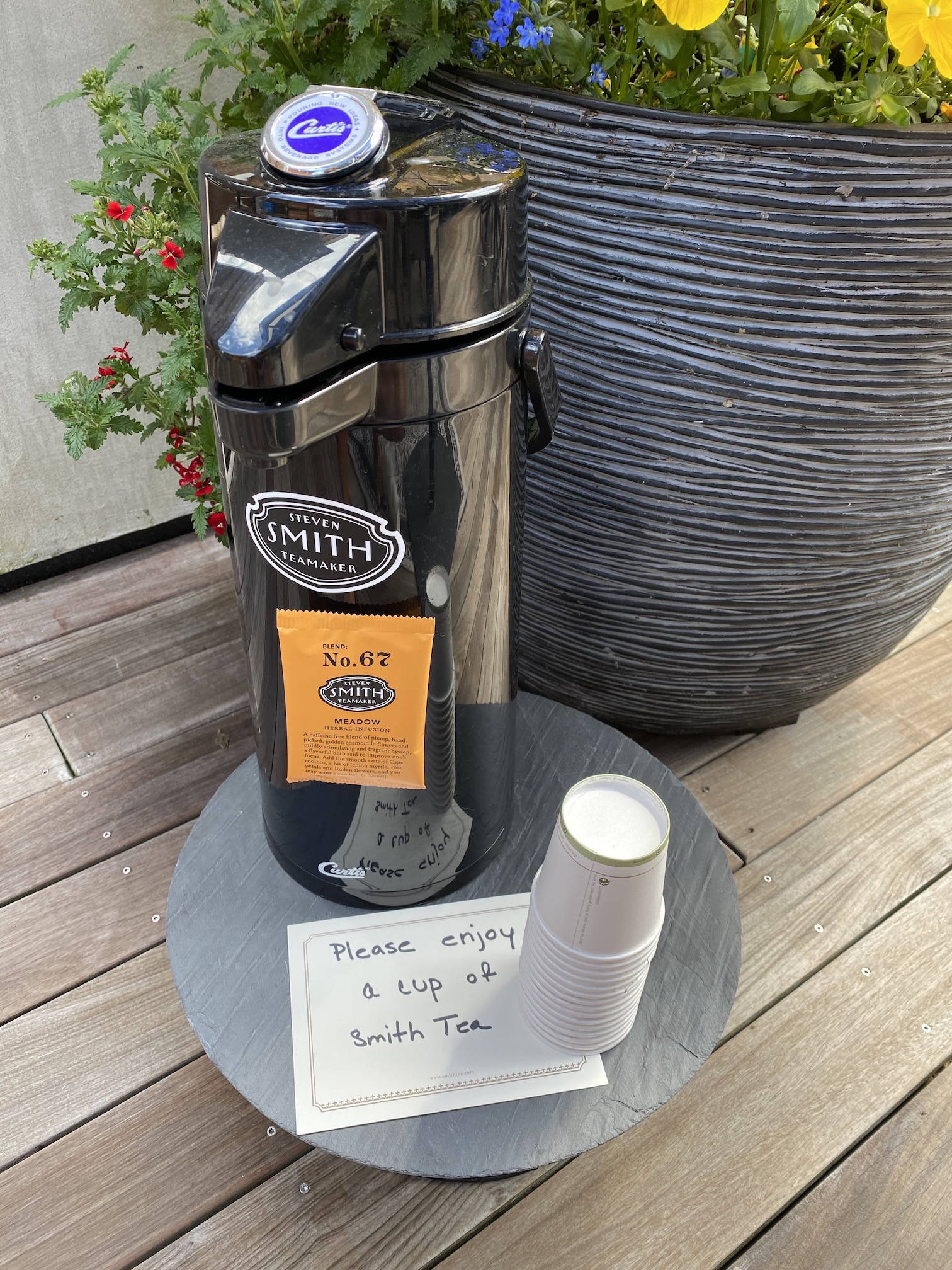 Finding calm in a crisis takes practice. Reading or listening to something inspiring helps me not feel overwhelmed by fear and uncertainty. Yesterday, I listened to a short interview with Michael Singer, author of The Untethered Soul, who reminded me that we have a responsibility to our inner and outer reality. How we nurture and cultivate our inner world gives us perspective when assessing the external world. It also helps me to balance news feeds with uplifting music. One of my favorite musicians, Ron Artis II (@ronartisii), has been sharing his gift of music on his Instagram feed daily. His younger brother, Thunderstorm Artis (@thunderstormartis), is a contestant on this season of The Voice, and I've loved tuning in to those uplifting singers every week.

Having more time to read, to be with our children, and appreciate the things in our lives that cannot be bought or sold has been a blessing in all of this. It's inspiring to learn about the positive impact we have collectively made on our planet just by staying home. Seeing those photos of clear blue skies and waterways will hopefully help us realize that we can make a difference with our actions.

I have increased my tea consumption these past few weeks. Tea is calming and it makes me feel as though I am treating my body with care. I'm taking more time to enjoy the lesser used tea accessories and vessels in my cabinet, finding joy in what I already have. And even today as I write, I am enjoying a refreshing cup of No. 93 Mediterranean Mint Iced Tea, which is pairing nicely with my neighbor's cookies.
---