Lord Bergamot London Fog Fudgesicle
Our most popular black tea blend, Lord Bergamot gets a distinguished summer makeover in this fudgesicle recipe created by Karlee Flores of Olive & Artisan.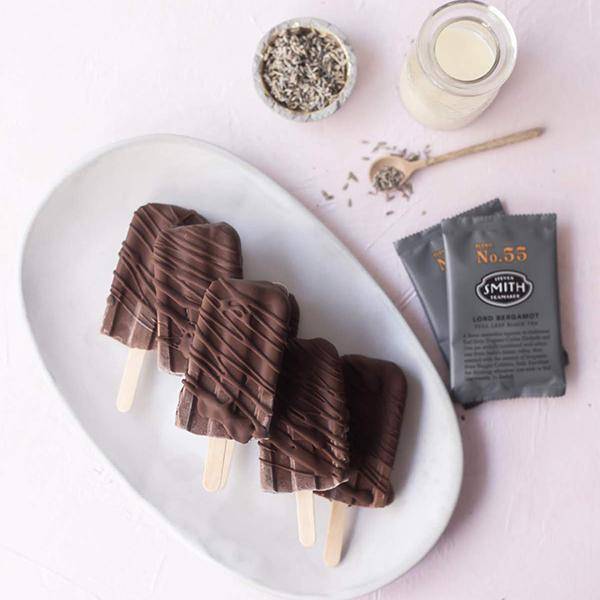 6 - 8 servings
Ingredients


4 sachets of Lord Bergamot
2 tsp corn starch
2 tbsp cocoa powder
3/4 cup sweetened condensed milk
1 cup of chocolate chips
3 tbsp coconut oil
Directions
Steep 4 sachets of Lord Bergamot in 2 cups of filtered water just off the boil for 5 minutes. Discard sachets.
Pour 1/4 cup of brewed tea into a small bowl (note: you'll need the rest of the brewed tea at the next step, so please reserve.) then add corn starch and cocoa powder, whisking until smooth.
Add remaining tea and sweetened condensed milk into a small saucepan over medium heat. Stir to combine. Once the mixture starts to steam, add the cocoa/corn starch mixture. Continue to cook, stirring to until slightly thickened, about 3-5 minutes. Then remove from heat.
Spray popsicle molds with cooking oil and pour mixture into molds, leaving about 1/4th inch of space from the top.
Freeze over night.
Option: Top with chocolate drizzle.*
*For chocolate drizzle: Add 1 cup chocolate chips and 3 tablespoons coconut oil into a non-stick or heavy bottomed sauce pan over low heat stirring frequently until chocolate is completely melted. Let cool 15 minutes before drizzling onto popsicles.
---