Developed by blogger and baker Marcella DiLonardo of Modest Marce, this silky tea-infused panna cotta showcases just how easy it is to incorporate tea into your kitchen. Read below to see how DiLonardo incorporates our limited-edition Lover's Leap black tea blend to make a spoonable dessert. She encourages you to experiment with your other favorite blends when Lover's Leap is out of season.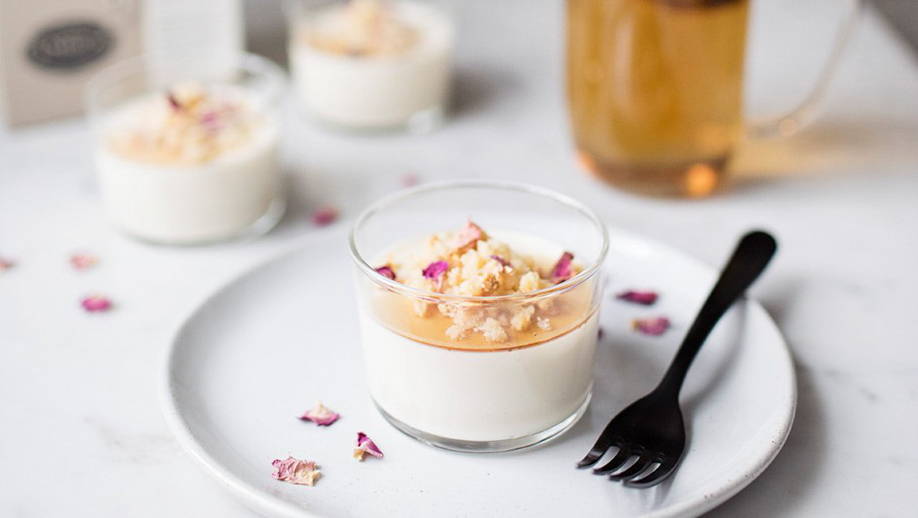 1 1/2 cups half & half
3 tsp powdered gelatin
1 1/2 cups heavy cream
2 sachets (or 2 tsp) of Lover's Leap
1/3 cup turbinado sugar
1 teaspoon pure vanilla extract
1/8 teaspoon fine salt
Lightly grease six 6 oz ramekins and set aside.
Add half & half to a medium sauce pan. Sprinkle an even layer of gelatin powder over the top. Allow stand for 5 minutes, until the gelatin begins to soften.
Place sauce pan over low heat and whisk in gelatin. Add the tea and sugar. Continue to stir until the sugar dissolves. Do NOT bring mixture to a boil.
Once the gelatin and sugar are fully dissolved, remove from heat add the vanilla, salt & heavy cream. Allow mixture to stand for 10 minutes before removing the tea. Note: if using sachets, squeeze out any excess liquid from tea bags.
Evenly divide mixture into prepared ramekins.
Place ramekins in fridge and let chill for at least 4 hours.
Before serving top with shortbread crumble, a splash of maple syrup and dried rose petals.
1/3 cup light brown sugar, packed
3/4 cups all purpose flour
1/8 tsp fine salt
1/4 cup unsalted butter, room temperature
1/2 tsp pure vanilla extract
1/2 tsp lemon zest
While the panna cotta chills, prepare the shortbread crumble. Preheat oven to 350 degrees and line a baking sheet with parchment paper.
In a bowl, add the brown sugar, flour, salt and butter. Using your hands, work in the butter until a pea sized crumb mixture is formed.
Mix in the vanilla extract & lemon zest. Turn out onto prepared baking sheet & let chill in the fridge for 10 minutes.
Bake for 8-10 minutes, until the crumbs are golden brown.
Allow mixture to cool completely before topping panna cotta.
---