Crafted by baker Karlee Flores, this almond flour tea cake showcases the versatility of our chamomile-based herbal infusion, Meadow. Whip this up for any summer celebration and your family will thank you. Shop No.67 Meadow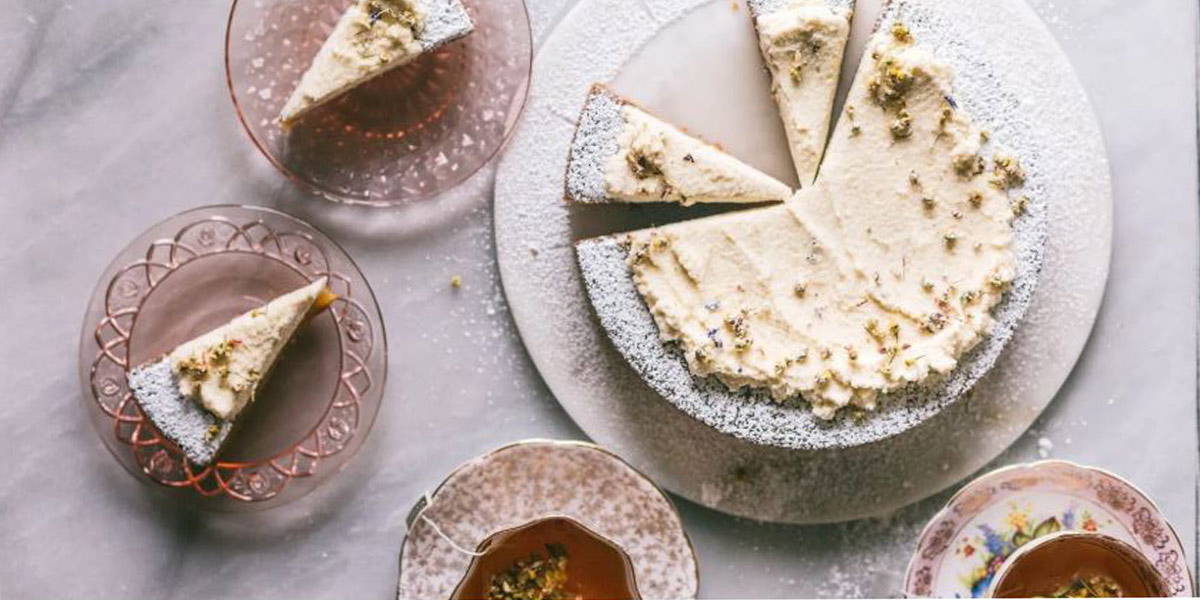 Ingredients:
½ cup unsalted butter (one stick)

4 sachets of Meadow or 4 tbsp. loose blend

6 eggs

1 cup granulated sugar

1/3 cup packed brown sugar

2 1/3 cup super fine almond meal

1 1/4 teaspoon baking powder

1/2 teaspoon salt

2 oranges, zest of

8 ounces of Mascarpone or Crème Fraiche
Directions:
Over medium heat in a small saucepan, melt butter. Cut open the tea sachets and sprinkle into the melted butter. Continue to cook over low heat for about 3 minutes. Be careful to not brown the butter. Turn off the heat and let sit to infuse longer while the cake is prepared.
Preheat oven to 375 degrees.
Grease a 9-inch round cake pan and set aside.
In a large bowl, lightly whisk the eggs until all the yolks are broken. Add in the sugar, brown sugar and combine with a whisk until uniform. Add in the super fine almond meal, baking powder, and salt and whisk until combined. Add in the zest of the oranges and pour the infused butter into the batter over a sieve to prevent the larger tea from getting into the batter. Discard the tea. Whisk the batter again to incorporate the fat and the zest evenly, about 1 minute.
Pour cake batter into prepared cake pan and place in the preheated oven on middle rack for 40-45 minutes. The cake will be done when it no longer has any jiggle in the middle and a toothpick will come out clean. Let the cake cool for about 10 minutes before turning out onto a cake plate.
When the cake has completely cooled, top with room temperature mascarpone or crème fraiche and dust with powdered sugar.
Shop No.67 Meadow
---